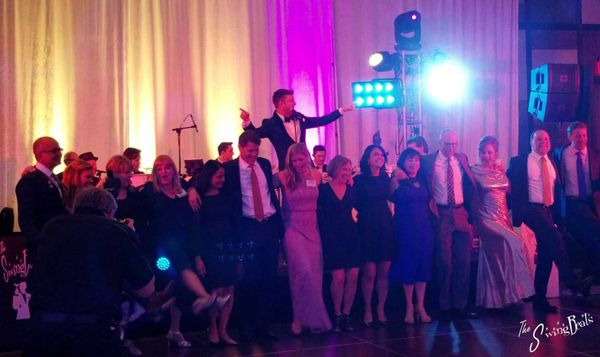 Justin & The SwingBeats is the premier Las Vegas band for corporate entertainment and corporate awards banquets, ceremonies, dinners, general sessions, networking events, cocktail receptions, and black tie galas. We are specialized, world class Las Vegas based musicians who are highly experienced in creating customized music playlists for corporate events and we understand the unique elements specific to corporate events and the needs of corporate event planners. We are organized, detailed, and polished professionals who are easy to work with and we care about the success of your event...our number one priority is to make you and your clients look good!
Please see an example of our corporate event work in the video and photos below from an awards banquet we played for Hilton Hotels at the Waldorf Astoria Las Vegas in March, 2019. In this example, our client wanted upbeat, recognizable pop songs for their award recipient's walk on music. They also requested a 1 hour after party dance set at the conclusion of the awards program. We proposed song choice options that they chose for each of their recipients and we played them on and off the stage with our 6 piece band with 2 horns. The after party dance set consisted of classic and current hits performed by Justin and the full band. 
If you have questions about how we can create a customized music program for your event with any of our 11 different band size options, please visit our contact page and call Justin directly for a free consultation or send us a request for proposal through our contact form. We look forward to working with you and helping to make your next event a stunning success!     
* We also travel to Los Angeles, San Francisco, Orange County, San Diego, Santa Barbara, Phoenix...anywhere really. We travel nationwide!
* The SwingBeats are available for travel nationwide with local band members in most major cities which keeps travel costs to a minimum. Contact us today for a quote to perform for your event anywhere in the U.S. 
Video
    Photos